A mag pull (not to be confused with the brand Magpul or any of their products) is simply a device attached to the bottom of a magazine that aids in extracting it from a pouch. This is desirable because it speeds up your reload and decreases the amount of time that your weapon is without ammo. For those who aren't interested in spending upwards of $20 to put a handle on each of their mags there is a cheap, simple and very effective solution. Just follow these simple steps: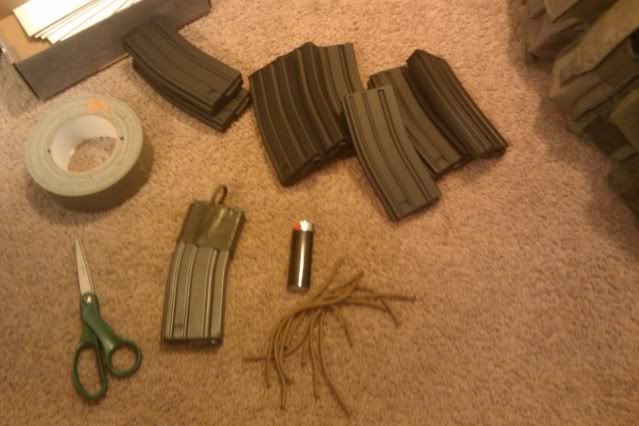 Step 1: Gather your mags, tape and para cord. Cut the para cord into 7-8″ lengths.
Step 2: Pull out the innards/guts of the cord and fuse (melt) the ends so they won't fray.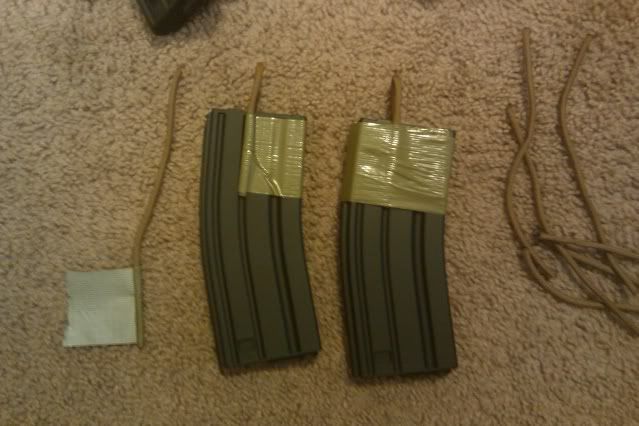 From left to right:
Step 3: Rip off a piece of tape and wrap it around the cord 2 times. There should be 1-2″ of tape remaining. Repeat for opposite end of cord.
Step 4: Set one taped end of the cord in the "trough" on the side of the mag as shown and adhere the tape. The edge of the tape should be just below the end of the mag. Repeat for other end of cord.
Step 5: Wrap the end of the mag 3-4 times with tape, covering the tape which held the cord in place. Finished!