What do you bring your gear to a game in? Sure, you've got your rifle case for your guns, and your sweet chest rig/vest/plate carrier/lbe to carry everything in game, but what do you carry all your other gear in?
Over the years, I have used quite a few types of packs and bags to haul all my crap to games. I've grown tired of the lack of organization of catch all duffel bags and the fact that my more delicate equipment eventually gets crushed in even the most pocketed contraption. Short of going out and purchasing an expensive kit bag or splitting up my gear into various smaller bags, i searched for another way to both organize and keep my gear safe. The answer you ask? It was surprisingly simple and it came in the form of a simple tool box on sale at Lowes.
Below, i have some photos of what it is and what's inside. I did not stage the items for the photos; this is exactly what i haul with me to every game although i know that there are things that could and maybe should be taken out or added.
My intent in posting this is to give those who are looking for a good "skirmish box" a good low cost, high value option and to give those who already have one some food for thought. With that, lets get to the pics…please excuse the quality as my living room has terrible lighting.
here is the box itself, i have simply stenciled my callsign on the outside to deter theft (yup it happens). As you can see, the top has two larger removable containers and one built in small container.
in the container on the left, i have tools and spare parts. Top left is an orange flash hider and muzzle cover in case i have a legality need for an orange tip. There is also a small Ziploc with bearing for a 40mm grenade, a spacer for an m4 stock, m4 front sight tool, and an extra antenna for my radio. Along the bottom are small screwdrivers and Allen wrenches for working on my AEG, a sharpie, and on the right is an extra ear bud with spare parts.
the small removable box on the right has all my charger adapters. I also have a spare scope battery in there.
In the center container i have my backup compass (my primary is wrist mounted and stays on my kit), face paint, a carabiner for securing gear, a scope cover, and electrical tape for repairs.
As with most toolboxes, mine has a pull out tray designed for small hand tools and the above photo shows what i keep here. Along the top are my sidearm, both of my radios, and some Excedrin as i tend to get headaches when dehydrated. I also have my backup headset, mags for my sidearm, and my AEG batteries (I always bring all of them so I can loan them out should someone need one). I also have some hand wipes for cleaning up face paint, iron sights as i don't run them on my AEG, a piece to my crane stock, and a pencil for taking notes.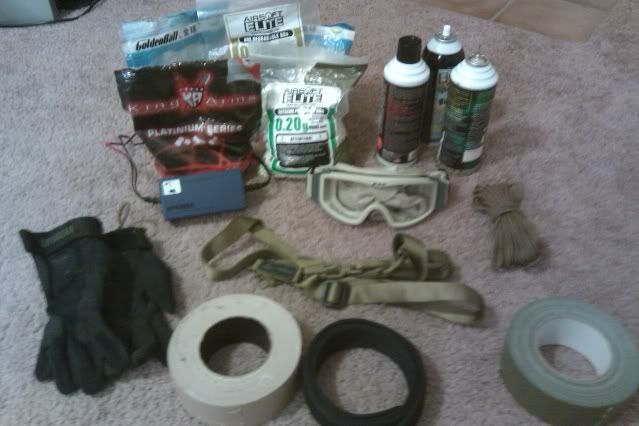 The last and final bit of gear resides in the main compartment. Down here I keep my  ammo, green gas, spray silicone, charger, extra eye protection (in case mine goes down or someone else needs it), para cord, my gloves, a spare sling, duct tape, and my inner belt (i use an inner and outer belt that Velcro together).
Here it is all together, on the underside of the lid of the box i have affixed some Velcro in order to store my various patches and plan to install a small light there as well. I would highly recommend this method to anyone looking for a way to haul their gear to a game. If you are looking for a higher quality box to transport your gear, check out Bunkerboxes. They make high value and high quality boxes for this specific purpose. If you need a special size they will even make you a custom box.
UPDATE: As of today, (6-19-12) there isn't much that's changed. I do expect to replace the box in the future as the latches are beginning to wear out. I'll update this post when I do.